Breakfast Served:
Weekdays: 6 a.m. to 11 a.m.
Saturday: 9 a.m. – 1 p.m.
Sunday: 10 a.m. – 1 p.m.

Lunch Served:
Weekdays: 11 a.m. to 4 p.m.
Saturday: 1 p.m. –4 p.m.
Sunday: 1p.m. – 4 p.m.

*Kitchen open until 10 p.m. or later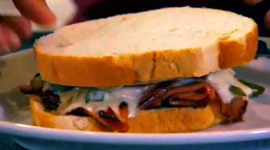 2 Eggs any style with bacon
$4.50
2 Eggs any style with sausage
$4.50
2 Eggs any style with ham
$4.50
3 Egg Omelet with cheese
$4.70
3 Egg Omelet with ham and cheese
$5.00
Breakfast Hoagie - fried egg, choice of ham or bacon, or
sausage & cheese with lettuce & tomato served on a hoagie bun
$5.00
English Muffin Sandwich -Fried egg and cheese with
choice of ham, bacon or sausage.
$3.25
Bagel Sandwich - Cream cheese, bacon and tomato
on a toasted bagel
$4.00
Mixed Grille - eggs, sausage, cheese, home fries, plus
whatever Nadine feels like mixing up and grilling-
$5.50
*All eggs served with toast


Burgers - cooked to perfection!
$5.50
Fried Bologna - with peppers and cheese
$5.00
Fish Sandwich - Jumbo Beer Battered
$5.75
Grilled Cheese with bacon and tomato
$4.50
Fried Chicken Sandwich
$5.25
Grilled Capicola and Swiss on Rye
$5.50
Ham and Cheese Sandwich - hot or cold
$5.00
Chicken or Steak Quesadillas
$5.50
Italian Hoagie:
capicolla, salami, ham, cheese, Italian dressing
$5.50
Philly Steak:
Sliced steak, green peppers, mushrooms, onions, provolone

$5.50
Grilled Pastrami and Swiss on Rye
$5.00
* Add French Fries to any sandwich for 1.00
Add egg, or bacon to any sandwich for .25


Salads - Choice of Dressing
Chef Salad:
ham, cheese, egg olives, lettuce, tomatoe,
$5.95
House Salad:
Ham, cheese, egg, olives, lettuce tomato, onions, cucumbers
$3.50
Chicken Salad - grilled or fried chicken breast:
lettuce, tomato, french fries, provolone cheese

$5.95
* Italian, Ranch, French, Creamy Italian,
Thousand Island & Blue Cheese $.50 extra.


Whole Wings (5)
Golden, Hot, Ranch, Garlic, BBQ, Nadine's Special Blend

$4.00
$.50
Deep Fried Macaroni & Cheese Wedge's (6)
$4.50
French Fries or Tater Tots
$2.50
back to top